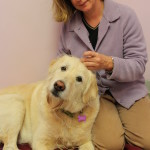 Why did I want to open Healing Paws? It is a question I have been asked many times over the past few months.  It sounds like a simple question.  Even with all the headaches, frustrations, excitement and fear of opening a new clinic; I can answer that question honestly.  It was the right thing for me to do.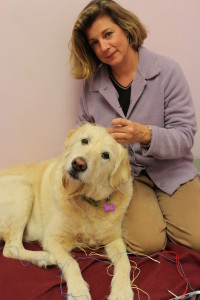 I have been a practicing vet in the Annapolis area for over 13 years.  This area is my home and my patients and their parents are like family to me.  I wanted to create a place where I could provide what I think is the very best veterinary care.  A modern, well equipped clinic is essential to providing quality care.  The missing component, in my opinion, was attention to the experience for both patient and their human companions.  From the moment you enter Healing Paws Wellness Center my highest priority is the comfort and well-being for both patient and owner.
No more 15 minute appointments where you barely get a chance to ask the doctor your questions before they are rushing out of the room.  No more dragging your dog into the exam room.  They will pull you into the room to flop on the fluffy dog beds and sample tasty treats.
No more worrying about having to sit in the waiting room and hope that a dog doesn't plop down right in front of kitty's carrier and start barking or that you will have to pull your dog away from someone else's.
I opened Healing Paws because I want to get to know my patients and their companions.  I want to sit down and talk to you.  I am committed to proper follow up that ensures each case heads down the path to wellness.  I want to combine all of my skills (traditional veterinary and holistic) to help you create the healthiest life possible for your best friend.
Most important I believe integrative veterinary care provides the most comprehensive veterinary care available.  Through modern diagnostics like radiographs and laboratory testing we can address physical issues or symptoms.  An integrative approach also provides treatment options that get to the core of the underlying problem.  My goal is to find and treat the root of the problem and create a plan for full healing.
I am excited to begin this long awaited chapter of my life.  I hope to be a part of your life and the life of your companion for many years to come.